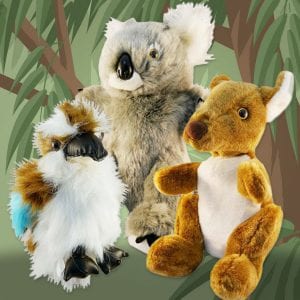 Buy Australian Wild Animal Puppets "Pack of 3 Puppets"
This Puppet Value pack contains 3 iconic Australian wild animal puppets.
Big eyes full of expression will captivate any little mind who wants to know about a selection of the 'wild animals puppets of Australia'.
Beautiful plush velour like fabric that they will want to snuggle up with.
This pack includes 1 of each of: Kangaroo, Koala, & Kookaburra.