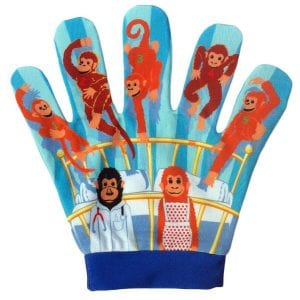 Five Cheeky Monkeys Song Mitt
The Puppet Company's Song Mitt's are designed for an adult's hand, our song mitts are perfect for using with young children and will provide hours of fun.
This Song mitt is based on the popular nursery rhyme '5 cheeky monkeys' that children adore and each comes with a card showing the words of the rhyme.
Five Cheeky Monkeys Song Mitt for Kids, Schools, Teachers, Theaters, Kindergarden or for any family or friend fun together.